Tamara Al Obweini Just Joined First Team Real Estate.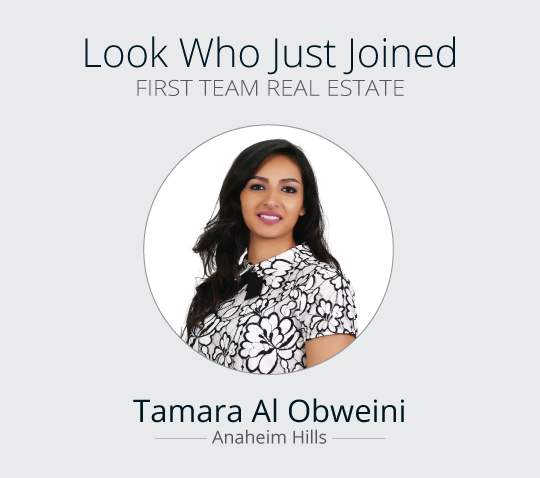 Tamara Al Obweini is an Orange County resident, has been in the customer service industry for seven years, and understands the value of personalized and outstanding customer service. Through her optimistic outlook, astute attention to details, and dedication, she's able to help her clients reach their milestones. Her flexibility, willingness to go above-and-beyond, and her communication skills help her build everlasting relationships with her clients.

She takes pride in her core values of hard work and principles of trust and honesty. She emphasizes the importance of putting her clients' needs first and doing what's right for her clients and her community. Tamara has a Bachelors Degree in computer science, but real estate has always been her passion. From the ever-changing market trends to chasing every opportunity around every corner, real estate has always been Tamara's dream. She believes that "knowledge is knowing what to say."

Tamara is fluent in two languages: Arabic and English. When there is a chance for her to unplug and relax, she finds herself going on a hike or a bike ride along Newport Beach or Huntington Beach. If you are eager to experience a different real estate journey with a satisfying and successful ending, contact Tamara today.
Tamara Al Obweini
(714) 686-9406
tamaraalobweini@firstteam.com
tamaraalobweini.firstteam.com

108 Pacifica #300, Irvine, CA 92618 | Lic# 01008773 |

(888) 236-1943

| www.FirstTeam.com
Share